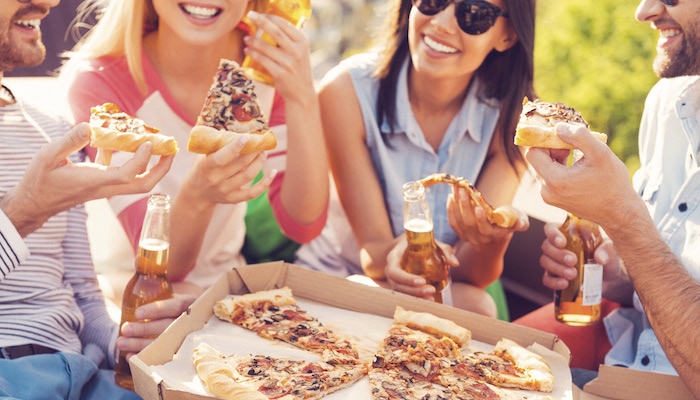 Independence and freedom. You probably heard these two words a lot this past weekend as the country commemorated July 4th. The spirit of the holiday inspired us to have a little "independents" celebration of our own – recognizing and thanking the many independent pizzeria owners/operators who entrust their business and unique, signature creations to Alive & Kickin' Pizza Crust.
So, here's to the independent pizzerias! Today's the day we celebrate you!
Independent Streak
If you're going to compete in an industry where an estimated 80% of ventures fail within the first five years, you'd better be tenacious and passionate. Independent pizzeria owners/operators have an abundance of both qualities, as evidenced by the fact that independent pizzeria concepts represent roughly half of the United States' pizza sector – a far higher percentage than in other legacy quick-service restaurant categories.
Plus, it seems "going it alone" is a gamble that can really pay off. The Pizza Today 2015 Hot 100 Independent Pizzerias List reports that the number one-rated independent pizza restaurant grossed $26 million in annual sales, with numbers two and three coming in at $20 million and $17.4 million respectively.
Freedom to Choose
However, independent pizzeria owners/operators are fueled by more than the bottom line. Like us, they truly love what they do and the freedom that comes with being able to create their own brand, especially as it relates to recipes and the customer experience:
Recipes
Independent pizzerias have more latitude in recipe development as compared to chains, meaning they can introduce unique ingredients — including custom-made crusts and dough balls — for signature pies and menu items that create customer loyalty and a distinct competitive advantage. Independents can also develop relationships with local businesses that offer fresh options in sauces and cheese, or homegrown quality in seasonal toppings. It's estimated that three out of every four customers look for — and frequent — restaurants that support their community.
Customer Experience
Independent pizzerias can offer customers one-of-a-kind meals in one-of-a-kind surroundings. Embracing the landmarks and quirks of the neighborhood/area/state or perhaps incorporating the owner/operator's personality makes the visit memorable and worth repeating for locals and out-of-towners alike.
Independent owners/operators represent the best of what this great country has to offer, and we're proud that Alive & Kickin' Pizza Crust is a part of their American dream. Liberate yourself from standard offerings by creating signature pies on custom crusts. Check out The Why and How of Custom Crusts for ideas and inspiration. Download your free copy now by clicking the button below.