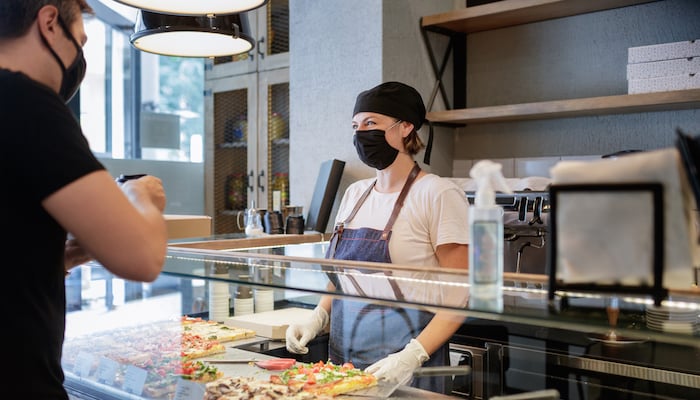 The devastation of COVID-19 continues to ripple through industries, with restaurants being particularly hard hit. Heading into the final quarter of 2020, the closure of estimated 110,000 establishments1 and $240 billion in lost sales2 were directly attributable to the global pandemic.
Sobering statistics like these measure the unfortunate things that are known about COVID-19. Perhaps the most pressing reality that remains unknown is just how long the global pandemic and its effects will last.
How, then, can pizzeria operators get and keep business flowing in an uncertain environment? Restaurant customer appreciation. That phrase typically denotes loyalty programs and food specials but, like almost everything else in 2020, there's a new take on what was familiar.
3 Approaches to Customer Loyalty
Customer expectations have changed in light of COVID-19, so it's hardly surprising that how you earn their loyalty looks a little different too.
For the foreseeable future, restaurant customer appreciation needs to be centered around their welfare, not strictly their pocketbook. Consider these options when engaging with customers who continue to support your pizzeria through the uncertainties of COVID-19:
1. Offer a loyalty program with a personal touch(less)
The pandemic has ushered in the age of contactless contact. Pizza delivery, for example, is a pizzeria-to-porch transaction. Increasingly, payment technologies are touchless. Out of necessity, customers have become comfortable with these methods. Implementing a cardless loyalty program that leverages customers' smartphones, apps, and special technology installed in your shop shows more than appreciation. It's a practical way to reduce the number of high-touch surfaces, improving safety for customers and an increasingly stretched staff.
2. Keep the lines of communication open
Your loyal customers are just that — loyal. Return the favor by reassuring them their safety is a top priority. Keep them in the loop via email and social media about the steps you're taking to minimize pandemic-related risks. It builds trust and a sense that you truly appreciate their business. It also builds empathy because, after all, the struggle is real for everyone.
3. Foster a sense of community
Social distancing has limited the use of many popular gathering spots like your pizzeria, and that's leaving people feeling a bit untethered. As a local business, you can influence how the community comes together to support each other. Planning or participating in a community-wide response to a pandemic-related circumstance such as feeding healthcare workers through a buy one/give one special can spark restaurant customer loyalty. People want to support local businesses during these challenging times, especially those that allow them to be part of something larger than themselves.
The pandemic has presented operators with both challenges and opportunities when it comes to showing restaurant customers that they're open for business with safety precautions in place. Check out our Lessons COVID Has Taught Pizza Operations eBook. Click the button below to access your copy of this valuable guide now.
SOURCE
1CNN, 10,000 of America's Restaurants have Closed in the Last Three Months, December 9, 2020
2Travel and Leisure, 100,000 Restaurants Have Closed in the Last 6 Months During the Pandemic, September 17, 2020