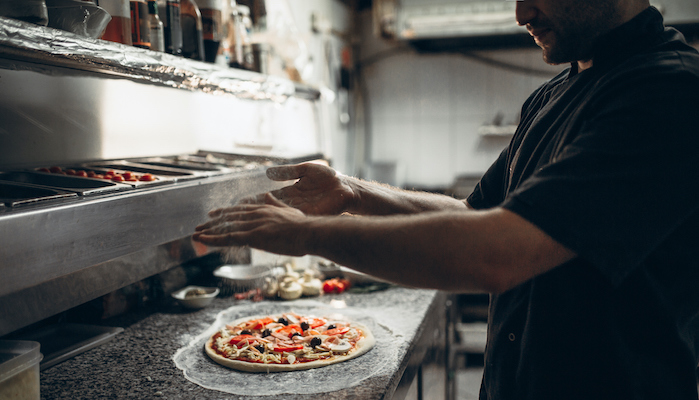 Since not every establishment can accommodate the ingredients, equipment, and labor needed for pizza prep, many operators are turning to ghost kitchens — and meeting with scary good results.
What's a Ghost Kitchen?
The ghost kitchen concept is primarily a pick-up and/or delivery-only restaurant. It eliminates the branded brick-and-mortar location that customers can visit to dine, and is intended for food preparation only. Some ghost kitchens may offer customer pick-up, and drivers from third-party services like GrubHub or UberEats take finished meals off-premises to customers, just as done in traditional restaurant delivery.
It's a restaurant model that fits squarely into a world increasingly dependent on online food ordering. Digital ordering and delivery have grown 300% faster than dine-in traffic since 2014 and 60% of people in the U.S. report using these services weekly1 — statistics that do not take into account the substantial uptick COVID-19 has had on this practice.
Technomic sees no reason for operators to be frightened of ghost kitchens. Recent data compiled from 300 U.S.-based facilities suggest a steady and profitable rise in sales. A projected 25% increase year-over-year for the next five years puts ghost kitchens on track for $300 million in annual sales.2 That's reason enough to invest in a ghost kitchen concept for pizza now and stay in it for the long-term.
The Benefits of A Pizza Ghost Kitchen
Sales growth potential is a tremendous upside for operators to consider a ghost kitchen as a solution for putting pizza on the menu or pivoting from a dine-in location. There are also cost efficiencies that can put (and keep) money in your pocket:
Managed labor costs:

Staffing a kitchen

versus staffing an entire restaurant immediately slashes budget allocated for employees.
Lower rent: Ghost kitchens can thrive in areas where traditional restaurants are limited by space requirements, the ability to attract customers, or storefront unavailability. As such, rents in these locations can be more budget-friendly.
No dine-in establishment expenses: Similar to staffing, tables, tabletop items, building costs, and other

overhead costs

to accommodate dine-in customers are simply unnecessary budget line items.
Pre-Made Dough Balls Capture the Spirit of Ghost Kitchens
Pre-made dough balls are a perfect fit for ghost kitchens. First, dough balls are versatile as pizza crusts, an entree staple, or appetizer must-have. However, what makes them even more cost effective in a ghost kitchen concept — or any operation's kitchen — is:
Limited equipment and related expenses: No mixing required means no mixer required — saving you at least $12,000-$15,000 right off the bat. You'll have to have a freezer or walk-in cooler capacity to store the dough, but at roughly $2,000-$5,000 the fix is still a fraction of scratch-made equipment needs.
Less required kitchen space: With the mixer out the way and no need to store dry ingredients for scratch-made dough prep, you can streamline the amount of kitchen square footage and also make the most of the space you have.
No extensive training: Pre-made dough balls are a breeze to handle and prep. Once the staff has

basic proofing and handling techniques

mastered, they'll wonder why anyone chooses to make their own dough.
Given their steady popularity and profitability, ghost kitchens are far from an apparition. As you weigh the practicality of including the concept in your business model, gain a better understanding of how to maximize your existing back-of-house with our infographic, 5 Ways Pre-Made Dough Balls Streamline Pizzeria Kitchen Operations. Click the button below to download your copy now!
SOURCES
1Upserve, 31 Online Ordering Statistics Every Restaurateur Should Know in 2020, June 11, 2020
2Restaurant Business, Ghost kitchens are here to stay—here's how to make the most of the model, June 9, 2020