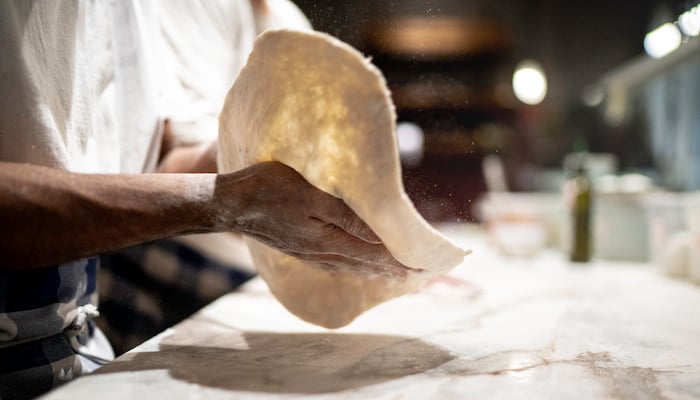 When making a recipe, it's no secret that ingredient quality impacts results. However, staples like flour are often viewed as functional and not always given full consideration.

Pizza masters are changing that. Many are insisting on using 00 pizza flour, citing its texture and gluten content as integral to superior pizza crust performance in brick ovens. It's a gourmet twist that commands — and gets — premium prices.
The preference isn't arbitrary. 00 flour is, indeed, the most finely milled in Italy — as evidenced by the "00" classification. The texture makes for a very soft and flavorful crust, and it also accommodates the typical thinner middle/thicker edge pizza crust structure. Plus, the low gluten content gives the crust just-right stretch and bite.

Compelling benefits, to be sure. However, simply substituting 00 flour for more traditional pizza flour in your recipe could be, well, a recipe for disaster unless you work with dough experts like Alive & Kickin' Pizza Crust on formulation. Why? 00 pizza flour behaves in ways that impact dough performance.
5 Things To Consider
That's not to suggest that 00 flour is unmanageable. Actually, the opposite is true provided deference is given to its idiosyncrasies, including:
1. Soft wheat vs. hard wheat
Unlike American and Canadian hard wheats used in typical pizza flours, 00 flour is derived from a variety of soft wheats. The soft wheat gluten structure gives the dough less snapback, making it easier to handle. However, pizza dough made with 00 flour is also more susceptible to low fermentation tolerance, which could disrupt established dough management processes.
2. Variable characteristics
Although all categorized as 00 flour, characteristics among types are not universal. Fermentation times could vary anywhere from 12 to 48 hours which could mean the difference between same-day dough and longer proofs. The assumption that 00 pizza flour is all the same could lead to some inadvertent and expensive do-overs.
3. Underdeveloped crust color
Since 00 pizza flour lacks diastatic malt or enzymes, chances are any pizza crust finish-baked at temperatures under 700℉ will substantially lack color — a potential turnoff for customers.
4. Dough ball opening
00 flour dough balls are soft and stretchable, making them a good fit for opening using pressing methods and a modified amount of dough-reducing agent. The 00 dough softness also limits the effectiveness of sheeters, relegating them to prep tools for hand stretching.
5. You'll pay more
Domestic or imported 00 pizza flour is a premium product. Despite being able to sell pizzas made with 00 flour at a higher price, this may not be compatible with your bottom line calculations.
Alive & Kickin' Solutions
00 pizza flour is increasingly popular throughout the pizza industry. Loyal users embrace the many benefits, but the use considerations may make pizza makers new to the flour a little more hesitant.

It doesn't matter what your experience level is with 00 flour when you work with the experts at Alive & Kickin'. We'll help you create a custom solution using 00 pizza flour that will have customers coming back for more!

Looking at additional options? Learn about dough balls, crusts, and sauces for your operation in the Alive & Kickin' Pizza Crust Product Overview Guide. Click the button below to download your copy now!