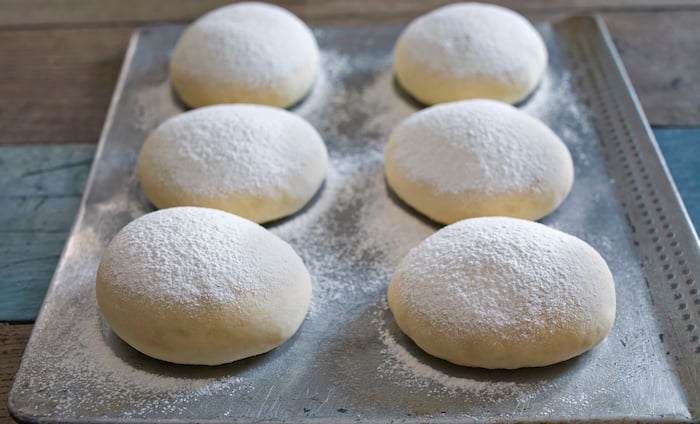 Our Pizza Crust Types series has explored many varieties: whole grain, multigrain, par-baked and self-rising. All are distinctive and delicious, but perhaps none offer more versatility and scratch-made taste than frozen dough balls.
Why frozen dough balls?
Frozen dough balls are just that — balls of dough that are pre-made and frozen to help operators accomplish two main goals: cut prep time and create pizza crust production consistency.
Don't let the basic definition fool you. Frozen dough balls are incredibly adaptable, ranging in size and type to fit the bill for a number of applications including appetizers, entrées, and desserts.
Types of dough balls
Alive & Kickin' Pizza Crust dough balls are available in four varieties:
Custom
Your proprietary recipe, perfectly portioned into dough balls of any size and ready to use without time-consuming labor, equipment use, or ingredient handling.
New York Style
Our most common, popular, and versatile dough ball — with good reason! Dough balls are great for hand-tossing New York Style pies or sheeted for a crispy thin crust, and always cooks up crisp and brown on the outside with a slightly chewy texture.
All-Purpose
A softer, less chewy texture than our New York Style option, All-Purpose Dough Balls have a more bread-like flavor that's great for thicker pizzas and breadsticks, especially when you choose Extra Yeast or Pan Pizza formulations.
Specialty
Enliven your menu with your choice of high-flavor, low-labor Specialty Dough Balls: Focaccia, Take 'N' Bake, and Classic Neapolitan.
Frozen dough ball performance
Dough balls are an easy go-to for low-prep, high-quality crust solutions, but they do require some staff training and care in proper storage, proofing, and preparation:
Storage
Dough balls require sufficient freezer space since they arrive from the manufacturer frozen. They should be kept frozen at 0ºF and ideally used within 90 days (180 days maximum).
Proofing
Rolling out or hand-tossing a dough ball is best accomplished after proofing for 24-72 hours on a dough tray, then wrapped or bagged to prevent dryness, and placed in a 34ºF to 40ºF cooler. The dough balls must be positioned to receive maximum airflow so the yeast rises appropriately.
Preparation
Letting dough balls stand at room temperature for about an hour prior to use maximizes performance. This necessary lead time means working with your kitchen team to accurately estimate how many dough balls to remove from the freezer in advance to prepare for busy days of the week.
Menu-boosting uses for frozen dough balls
We've already mentioned the customization capabilities, but it bears repeating. Frozen dough balls work great for custom crust recipes, plus they can be "clean label" compliant, so you can take advantage of natural ingredient trends and attract health-conscious patrons.
What's more, dough balls offer characteristics that make the most of almost any oven type, including brick- or wood-fired, conveyor and deck ovens. This means they work well for a variety of pizza styles too, from hand-tossed New York-style to deep-dish Chicago. Neapolitan pizzas, for example, really shine when made atop a dough ball crust and baked in a high-heat brick- or wood-fired oven.
Versatility, consistency, and customer-pleasing menu options — all in one easy-prep solution. Isn't it time you consider switching from scratch-made dough to frozen dough balls? Crunch the numbers using our Pizza Dough Cost Calculator.
Click the button below to start adding up the time and money you could be saving!