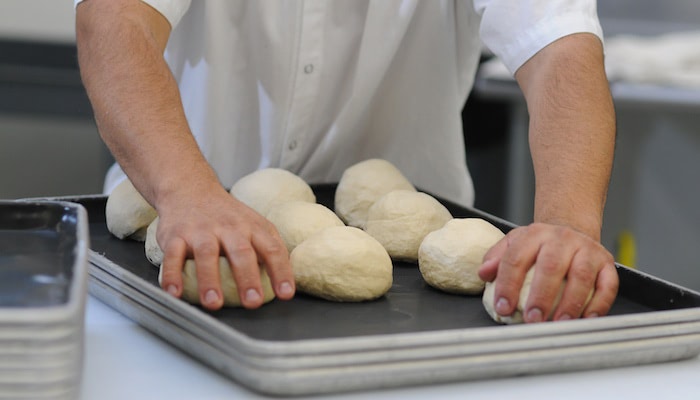 Pizza is a universal favorite, but there's no universal agreement on which style is "best." Your customers each have their preferences, so a variety of pies on the menu is a must-have.
Making dough for crusts that run the gamut in thickness, texture and chew is more than a logistical challenge for almost any pizza concept — it can quickly drain resources and profitability. In addition to the labor involved in scratch-dough preparation, there's ingredient management/ordering, prep space requirements and specialized equipment to consider.
Pre-made dough balls alleviate the complications, expense and frustration of trying to keep up with different crust demands using scratch-made dough. This versatile and economical solution is a good fit for almost all pie styles, preparation techniques and oven types.
Pie Styles
Through your distributor, you can get pre-made dough balls from Alive & Kickin' Pizza Crust that are perfectly formulated for different pie styles, like:
Take and Bake or High Gluten Dough Balls, which are ideal for hand stretching or hand tossing crusts for pies that will be baked off at home, or thinner New York style pizza crusts

Hotel & Restaurant Style Dough Balls for Detroit- or Chicago-style pies, where the dough proofs in the pan and is worked by hand into a thick, chewy crust

Classic Neapolitan Dough Balls and High Heat Dough Balls are good choices for pies prepared at high temperatures, like Neapolitan or any pizza cooked over coals or in a wood-fired oven
Pre-made dough balls also provide opportunities for you to add some non-pizza options, from appetizers to desserts, to your menu! Use them to quickly prepare calzones, breadsticks, garlic knots, cheese bread and more.
Preparation Techniques
Using dough sheeters or hand-stretching dough is common for certain pizza styles, and Alive & Kickin' Pizza Crust has pre-made dough balls that are well-matched for these preparations:
Low Moisture High Gluten Dough Balls

work particularly well with sheeters.

Take and Bake and High Gluten Dough Balls

are ideal for hand-stretching.
Oven Types
Purchasing a new oven to expand pizza offerings is both expensive and impractical. Our wide variety of pre-made dough ball options can help you make the most of the oven you already have:
Brick/wood-fired and high-heat ovens

routinely operate at several hundred degrees, and not every dough is appropriate. For these types of ovens, ask your distributor for Alive & Kickin's Classic Neapolitan Dough Balls, High Heat Dough Balls or Wood Fired High Gluten Dough Balls.

Deck ovens

are favorites for New York-style pizza preparations, and High Gluten Dough Balls are good performers.

Conveyor ovens

use forced air instead of direct heat, and are often found in high volume QSRs, delivery-focused pizzerias and entertainment venues like stadiums and theaters. The fast bake and substantial pull and chew make High Gluten Dough Balls an ideal match, while Hotel & Restaurant Style Dough Balls work as well.

Convection ovens

are popular commercial kitchens and similar to conveyor ovens, work especially well for High Gluten Dough Balls and Hotel & Restaurant Style Dough Balls.
Complement the labor- and cost-saving efficiencies of Alive & Kickin' Pizza Crust pre-made dough balls with the practical advice on maximizing understaffed teams found in The Efficient Kitchen: Doing More With Fewer Employees. Click the button below to access your copy now.