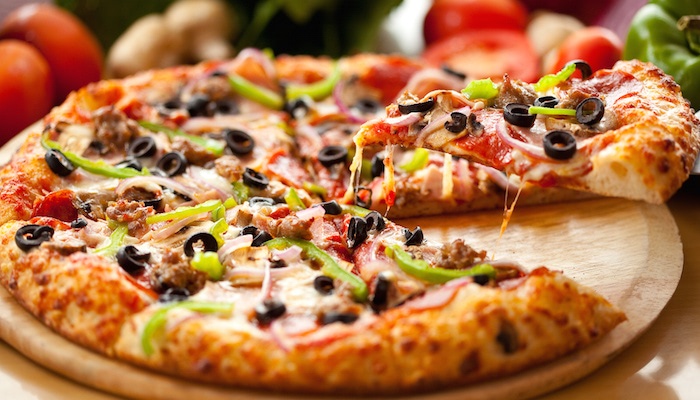 Thick, thin, or somewhere in-between, the debate rages about which crust style makes for the perfect pizza. Self-rising and par-baked pizza crusts each offer unique characteristics that make for bold signature pies or tried-and-true menu selections, but the two pizza crust types are often confused.
To help you leverage self-rising and par-baked crusts to your best advantage, let's get back to basics on definitions, performance, and practical uses.
What is self-rising crust pizza?
Self-rising crusts (also referred to as rising crust pizza, oven-rising, or live dough crust) combine leavening agents like baking powder, baking soda, or other acid sources with yeast to create a pizza dough that rises as it bakes in the end user's oven. To streamline preparation, the dough can also be made with self-rising flour that contains both baking powder and baking soda.
What is par-baked pizza?
Par-baked pizza crusts use dough that has already gone through the baking process once, which gives the crust the same essential properties as baked bread. This partial baking kills the yeast so the internal structure of the dough is set. Par-baked crusts are easier to handle since they can be held at refrigerated or ambient temperatures. They also reduce cooking time for the back of the house, helping to ensure quicker customer service.
Depending on how the pizza is ultimately baked and served, the seemingly subtle differences between the two crust types can significantly impact crust characteristics and performance.
Check out the other articles in our Pizza Crust Types series:
Crust Performance and Practical Uses
Self-rising and par-baked pizza crusts are the cornerstones for QSR, frozen retail, convenience stores, foodservice, deli, and take and bake applications. Operators favor the crusts because of their adaptability and consistency; customers are drawn to the texture, aroma, flavor, and satisfying bite and chew.
But, what makes self-rising pizza crust the preferred choice over par-baked, or vice versa? It comes down to characteristics, performance, and practical uses — and the expert dough manufacturers you entrust to provide quality pizza crusts.
At Alive & Kickin' Pizza Crust, we offer a variety of flavor profiles, shapes, and sizes of self-rising pizza crusts and par-baked pizza crusts to help you delight customers time and again. This general comparison of our product lines provides insight into what each crust type offers:
Self-Rising Pizza Crusts
Rise as they bake
Freezer-to-oven convenience — no kneading or proofing required for streamlined prep, which is beneficial in

labor-strapped kitchens

Long shelf life of 180 days frozen
Excellent performance under warming for extended times
Ideal for conveyor, rapid cook, convection, and home ovens
Bready and flavorful, with a rich bite
Soft, flaky texture with a coarse crumb and crisp bottom
Large rolled edges for visual appeal and impressive oven "pop"
Par-Baked Pizza Crusts
Easy to prepare and handle
Shorter bake times and no proofing required
Extra-long shelf life and capable of being held refrigerated for up to one week
Ideal for conveyor, deck, rapid cook, double-door convection, and home ovens
Thick crusts are preferred for Sicilian, deep dish, and traditional pan-style pies
Thin and ultra-thin crusts provide flaky interiors, delicate texture, and satisfying crunch
Rising crust pizza, par-baked pizza — each has its charm and distinct benefits. Understanding the similarities and differences between the two is an important step toward meeting customer expectations.
However, as long as there are pizza lovers, there will be a variety of preferences to satisfy. The Pizza Crust and Dough Types Quick Reference Guide provides at-a-glance essential information about the most popular Alive & Kickin' products. Click the button below to download your copy now!