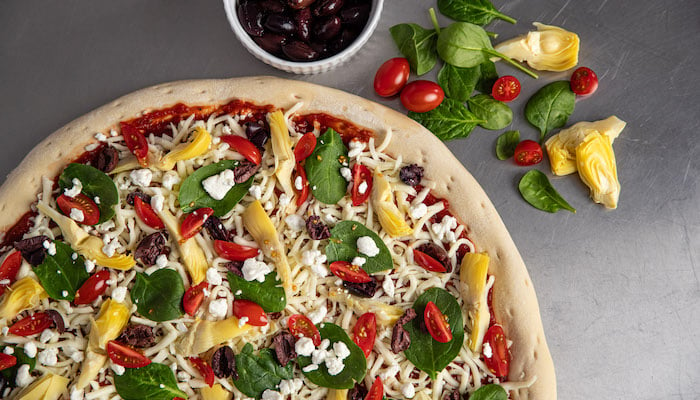 Multi-million dollar monthly frozen pizza retail sales. Double digit spikes in year-over-year pizza delivery sales percentages for the three major pizza chains. The global pandemic has people searching for comfort, and they're finding it in pizza.
The surge in at-home pizza prep has given many pizzeria and convenience store operators food for thought about adding to or enhancing their take and bake pizza offerings. Opportunities abound in the category, and they're not strictly COVID-19 related.
Key Reasons to Add Take and Bake Pizza To Your Offerings
Take and bake pizza is a natural customer pleaser, primarily because it fits their ever-busy lifestyles while still providing a quality dining experience.
Of course delighting customers should be your main motivator for including take and bake pizza options, but there are other reasons it's a sound business decision:
Speed of service: Baking occurs entirely in customers' homes, saving your operation the related prep time and overhead costs
Refreshed merchandising: Take and bake gives you another way to promote and sell pizza, maximizing the impact of your offerings, storefront, or

pizza program



Availability to food stamp recipients: Take and bake pizzas generally qualify for purchase by SNAP and EBT program participants, which is mutually beneficial. It provides a quality meal choice while also increasing your profit potential
Freshness: Baking pizza at home — in their own ovens — gives customers an elevated perception of freshness and convenience
Value: Compared to limited casual dining opportunities or home-delivered meals that are tagged with service fees, take and bakes are more cost-effective
More To Take and Bake
Take and bake pizza is a perennial favorite, but with a little imagination and Alive & Kickin' Pizza Crust products you can really ramp up take and bake choices.
With dough balls, you can easily add bake-at-home alternatives to your lineup. Satisfy a variety of customer cravings with breadsticks, calzones, or even sweet cinnamon rolls.
Par-baked crusts are perfect for low-labor, high-margin pizza fries! Just top, cut, and add dipping sauce. Easy!
And don't underestimate the appeal of a signature crust. A pizza that's uniquely yours is one that customers are likely willing to make theirs, too!
ALSO READ: The Best Multiple Merchandising Tips for C-Store Pizza Programs
4 Steps to Starting a Take and Bake Pizza Business
At-home dining is experiencing a renaissance that may well outlast any pandemic-related mandates. The potential transition in customer preferences is a prime opportunity to add a take and bake component to your pizzeria or c-store.
Starting from scratch, so to speak, is a matter of smart planning that starts well before launching take and bake service. For pizzerias and those c-stores with kitchen facilities to be successful, there are a number of considerations and steps to follow:
Order ingredients in greater quantities to ensure you won't run out
Add storage and proofing space, if necessary, to accommodate dough and prep needs
Operate within your kitchen and baking capacity so you don't disrupt existing services
Market

take and bake options consistently to maximize profitability, prevent ingredient waste, and manage labor costs
Is adding or enhancing take and bake options the next step for your operation? Our Take and Bake Pizza Tip Sheet is packed with timely info and business insights to help you decide. Click the button below to download your copy now!