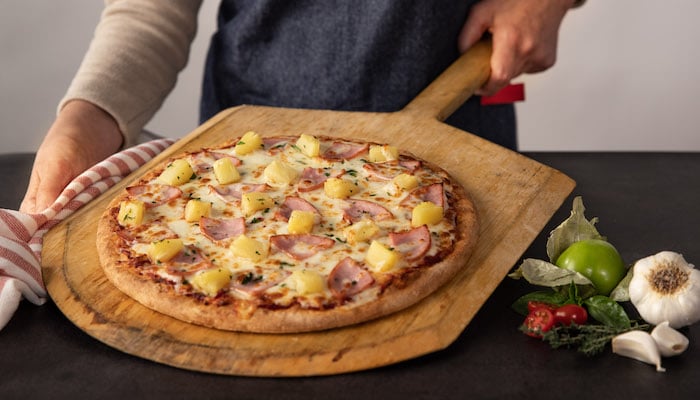 Here's something to consider: 93% of Americans live within 10 minutes of a c-store.1 That's a lot of people who can choose to frequent c-stores — and they do, as corroborated by NACS data that reflects consistent c-store sales growth, particularly in prepared foods.
Pizza falls within the prepared foods category. It is also the top meal pick for 83% of diners at least once a month.2 It all adds up to some big time opportunities for convenience store pizza programs.
Multiple Merchandising: Adding Service Options to C-Store Pizza Programs
The popularity of pizza is hardly a revelation. It's a natural sales driver, and it also likely factored into your decision to pursue a c-store pizza program. Offering unique or limited time flavor combos may pique customer interest, the building program loyalty long-term lies in how you get pizza into hungry customers' hands.
Take and bake pizza is a perennial favorite of the c-store crowd. It's easy to pick up and transport, a quality meal, and at-home prep is as simple as popping it in an oven.
There's no reason take and bake pies can't or shouldn't be featured in convenience store pizza programs. However, customers like choice — and multiple merchandising gives it to them.
In addition to take and bake, consider serving up different pizza styles in the following ways:
Hot by the slice: Grab 'n' go at its finest (On average, Americans eat 46 slices of pizza per year!3)
Hot whole pies: Prepared, boxed, and ready to go directly from the warming station
Frozen whole pies: A traditional freezer case offering that customers have developed a taste for

at retail

with the advent of food safety precautions surrounding the pandemic
Regardless of how you choose to implement multiple merchandising, pizza quality does and always will matter to c-store customers. The versatility of par-baked crusts make them excellent choices for maintaining quality standards within your convenience store pizza program.
Have the First Word in Last Mile Fulfillment
Combine the choices of multiple merchandising with the convenience of last mile fulfillment, and it's an almost sure win for c-store pizza program profitability.
The pandemic nudged 68% of North American c-store operators into a greater reliance on technology for mobile ordering and in-store pizza pickup.4 It continues to evolve in the adoption of last mile fulfillment options customers have grown to expect — curbside, drive-through, and the uniquely c-store options of at-the-gas-pump ordering and delivery to the car.
Last mile fulfillment serves a dual purpose. It makes customers aware of any pizza multiple merchandising options being offered and removes any barriers to ordering. That's a win-win for customers and your c-store pizza program.
Keep quality top of mind by partnering with the pizza crust experts at Alive & Kickin'. We have the solutions for all of your multiple merchandising needs, including fantastic par-baked crusts that delight customers and increase profitability. Learn more in our guide, Par-Baked Pizza Crusts: 4 Key Benefits for C-Stores. Click the button below to download your copy now.
SOURCES
1Baking Business, C-Stores are taking a larger slice of the pizza market, March 18, 2020
2CSP Daily News, How C-Stores Are Upping the Pizza Game, July 10, 2019
3Slice, How Much Pizza Does the Average American Eat in a Year? - Slice Pizza Blog, Undated
4NACS Research & Technology Last Mile Fulfillment in Convenience Retail study, Undated