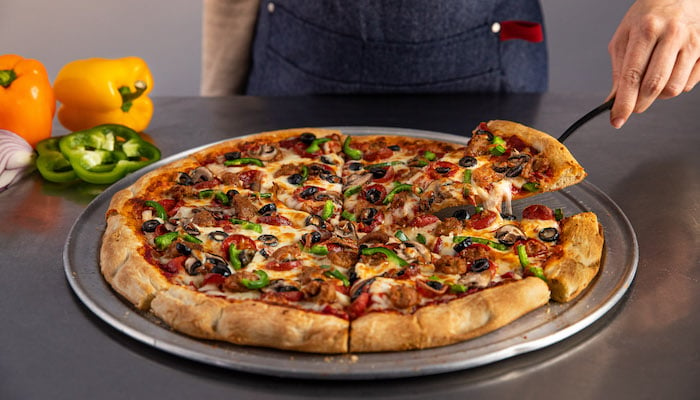 According to NACS, 93% of Americans live within 10 minutes of a convenience store.1 That type of proximity creates prime sales opportunities — especially for pizza, which is a favorite go-to for hungry customers.
But not just any pizza; the perfect pizza — a crust with just-right crispness and mouthfeel, piled high with any number of irresistible toppings.
How do c-store operators consistently live up to customers' pizza nirvana? The answer lies in the quality, versatility, and innovation of par-baked pizza crusts from the industry's proven partner, Alive & Kickin' Pizza Crust.
Quality Counts
By nature, c-stores need to be prepared for anything — from periodic influxes of traffic to steady or even high-demand sales. This unpredictability can mean prepped pizza is subject to extended hold times in refrigeration or under heat lamps, spelling doom for crusts that lack integrity.
Quality ingredients in Alive & Kickin' par-baked pizza crusts stave off sogginess that makes customers cringe. They also ensure consistent crust flavor, appearance, and performance — effortless ease of handling that accommodates the shifting demands and time constraints of c-stores.
Versatility for Varied Tastes
There's no one universal crust type or taste that will satisfy all customers — nor should there be. Alive & Kickin' par-baked pizza crusts put variety, premium flavors, and value on c-store menus. A few options include:
Bella Vita Individual Size Crusts: A yeasty, fermented par-baked crust that browns beautifully with a "rolled" edge
DeliCatezze Par-baked Crusts: The extra-long shelf life and hold times, ease of handling, and perfect final bake in home ovens is a natural fit for c-stores
New York Style Par-baked Crusts: A lightly crisp bottom, large irregular edge, and just the right chew combine for the par-baked crust of a classic slice
Cheese-Stuffed Pizza Crusts: A tasty combination of traditional thickness and a rope of mozzarella cheese enclosed in the outer edge
Italian Heritage Crusts: A robust, flavorful recipe with a hint of garlic and appealing texture
Innovative Solutions — Make It Yours (or Ours)
Pizza lovers are loyal to the classics or their personal tried-and-true combos, but few can resist the allure of a unique or exclusive flavor profile.
One of the latest Alive & Kickin' innovations — Crunch Time Cheddar Thin Crust — is a bold burst of savory cheddar cheese flavor! The light, crispy texture has just the right amount of crunch and the ultimate in par-baked crust convenience.
Or, why not wow 'em with your very own taste sensation? As the pizza crust and dough experts, Alive & Kickin' can help you develop a signature par-baked crust that captures your custom flair.
Customers expect a lot from the food they purchase at c-stores. Delight them every time by leveraging the quality, versatility, and innovative stylings of par-baked crusts. Explore other key benefits these crusts have to offer to c-stores. Click the button below to download your copy now!
SOURCE
1BakingBusiness.com, C-stores are taking a larger slice of the pizza market, March 18, 2020