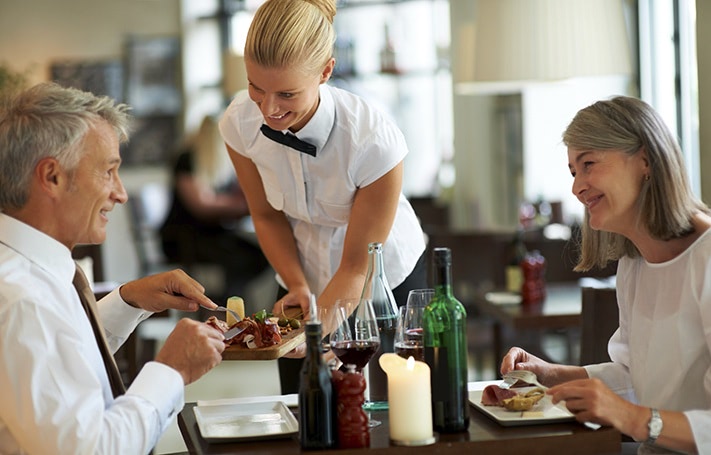 Despite your best efforts, there's no way to please everyone – and that leads to the occasional customer complaint. Instead of running yourself ragged trying to be all things to all people, accept the fact that you will receive negative feedback from time to time and take comfort in knowing you are not alone.
In fact, a recent Consumer Reports survey revealed that restaurants nationwide routinely hear from disgruntled customers, fielding complaints that run the gamut from atmosphere and fellow diners to servers and, of course, food. Here are the top five gripes, in descending order:
Noisiness: A roomful of poorly positioned tables coupled with loud, distracting or cell phone-gabbing diners will keep dissatisfied customers anything but quiet.
Inattentiveness: Tables that aren't ready more than 15 minutes past a reservation time, slow service, inaccurately calculated check totals, server confusion about who gets which meal or no water at the table will irritate customers.
Edibleness: Meals or beverages that are served at incorrect temperatures, items don't look or taste as described in the menu, or that are not what was ordered will cause customers lose their appetites for your restaurant.
Rudeness: If a server cops an attitude, rushes customers through a meal or refers to them by cutesy names like "honey" or "dear," you'll likely hear about it. Another bugaboo that's perceived as rude? Automatically adding gratuities of 18% or more to check totals.
Untidiness: Dirty tables, utensils and glassware, ill-equipped restrooms and unkempt servers are top customer turn-offs.
Regardless of type, when a complaint arises how you handle it often determines if that customer returns. It may even present an opportunity for you to convert him or her into an enthusiastic brand advocate!
How do you go about doing so and resolving complaints to everyone's satisfaction? Find out by downloading 7 Tips to Handle Unhappy Customers, our latest infographic that contains effective strategies that staff members at all levels can use to respond to negative situations. Get your free copy of this valuable tool now by clicking the button below.