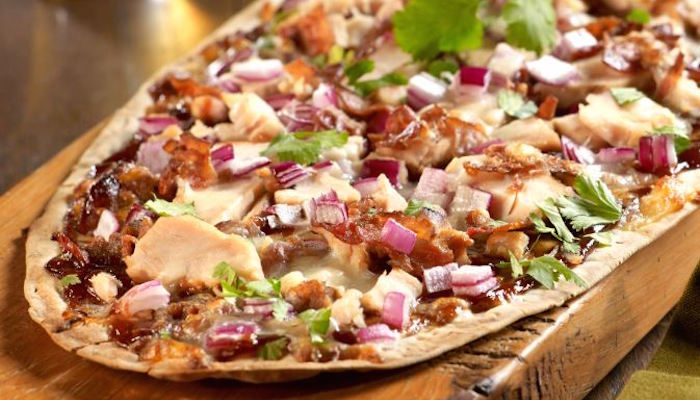 Ancient in origin and a world traveler like the people who first made it, flatbread (or "first bread") evolved from a basic cultural staple of ground grain and water into a beloved, versatile flat crust infused with signature mixes of herbs and spices that complement any number of toppings.
Like the whole grain and multigrain crusts we talked about in the first article of this Pizza Crust Types series, flatbreads can help make your menu come alive with fresh, patron-pleasing choices in pies and appetizers.
Check out all the articles in our Pizza Crust Types series:
Are flatbread crusts a flat-out fit for your pizza operation? Let's take a closer look.
Flatbread Varieties
Flatbread has a wide array of applications that can mainly be broken into leavened and unleavened. Unleavened flatbreads include matso, chapati, crepes, and tortillas and are typically prepared in a skillet.
Leavened flatbreads like focaccia and multigrain are the types you'd find on a pizza menu, because they lend themselves well to a truly artisanal eating experience and offer an upscale alternative to the traditional pizza.
Flatbread Crust Performance
Few things beat flatbread in delivering a light, thin crust that has an artisan appeal. Selling and serving flatbreads is quick and easy too, since bake times are typically much faster than a traditional pizza.
The grain type, yeast, flavorings and amount of water used depend largely on the cooking method, which ranges from stone or brick ovens to broilers and even griddle tops. Spices and flavors can run the gamut too: dill, thyme, cumin, coriander seeds, onions and garlic are just a few.
Flatbreads hold up well against a variety of toppings, too. Try traditional pie combos or test some more epicurean tastes like spinach and balsamic.
Practical Uses of Flatbreads
Flatbread is a great choice for appetizers or shareable plates, showcasing "limited time only" gourmet recipes made with seasonal ingredients such as chicken Florentine, Mediterranean or arugula and salami. They make great dip-able appetizers as well, and can do double duty as wraps.
Flatbread also plays into the better-for-you food trend. Since it's is typically less filling than other crust types, flatbread is the go-to choice for health-conscious patrons who love pizza, but hate feeling guilty about eating it. It's perfect for personal-size pizzas, which also appeal to the health-conscious crowd.
Learn about par-baked and self-rising crusts as well as dough balls in our Pizza Crust Types article series, and download How Pizza Fits Into Healthy Lifestyles. This free guide is full of tips for appealing to health-conscious consumers, and includes two flatbread recipes for you to try today! Get your free copy now by clicking the button below.