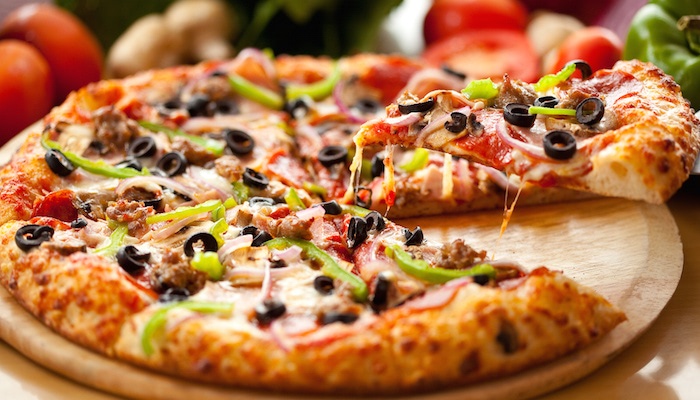 Thick, thin or somewhere in-between, the debate rages about which crust style makes for the perfect pizza. Like the whole grain, multigrain and flatbread varieties we've already explored in our Pizza Crust Types series, par-baked and self-rising crusts offer unique characteristics that make for bold signature pies or tried-and-true menu selections.
What's the difference?
Let's start with some basic definitions:
Par-baked crust refers to a dough that has already gone through the baking process once, which gives the crust the same essential properties as baked bread. This partial baking kills the yeast so the internal structure of the dough is set. Par-baked crusts are easier to handle since they can be held at refrigerated or ambient temperatures. They also reduce cooking time for the back of the house, helping to ensure quicker customer service.
Self-rising crust (also referred to as oven-rising or live dough crust) uses leavening agents like baking powder, baking soda or other acid sources in combination with yeast to create a pizza dough that rises as it bakes in the end user's oven. To streamline preparation, the dough can also be made with self-rising flour that contains both baking powder and baking soda.
Depending on how the pizza is ultimately baked and served, the differences can be subtle, but they do have an impact on crust characteristics and performance.
Check out the other articles in our Pizza Crust Types series:
Crust Performance and Practical Uses
Par-baked and self-rising crusts are the cornerstones for retail, foodservice, deli and take-and-bake operations because of their adaptability and consistency.
At Alive & Kickin' Pizza Crust, we offer a variety of flavor profiles, shapes and sizes to help you delight patrons time and again — or we can customize any crust to your signature needs.
Par-Baked Crusts (like Alive & Kickin' Cobble Hill products)
Ideal for making thick crusts like Sicilian, deep dish and traditional pan style pies
Excellent for take-and-bake applications where the pizza needs to be held refrigerated for up to one week
Create the best thin and crispy profiles with flaky, delicate texture
Have an extra-long shelf life, easy to handle and top
Save prep time and cook time with typically shorter bake times and no proofing required
Self-Rising Crusts (like Alive & Kickin' Astoria Rising Crusts products)
Rise as they bake in the oven
Typically are bready and flavorful, with a rich bite
Have a soft, flaky texture with a coarse crumb and crisp bottom
Excellent performance under warming for extended times, as in QSRs
Cuts prep time with freezer-to-oven convenience — no kneading or proofing required
A Word About Ovens
Peak performance is achieved when attention is paid to the oven you use and the crusts most well suited for it.
Both par-baked and self-rising crusts are ideal for conveyor and rapid cook ovens. Par-baked crusts are preferred for double-door convection ovens, while self-rising crusts work well in home ovens.
Of course, there are exceptions and deviations from these general "oven rules" based on crust type, pie style and oven idiosyncrasies. You can learn more about the best crust types for your oven in our Pizza Ovens Guide. Download your free copy now by clicking the button below, and be sure to look out upcoming article on dough balls!