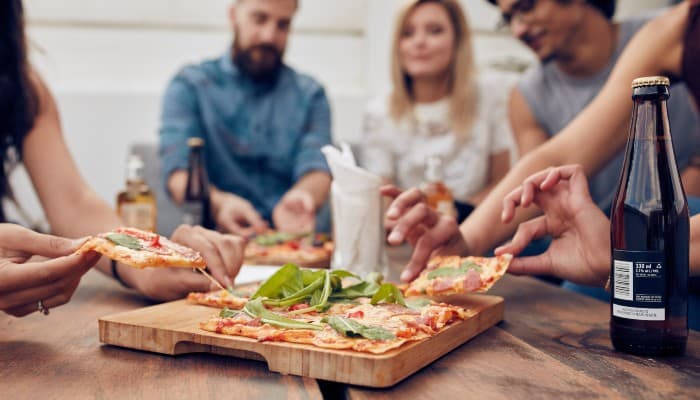 Restaurant operators are carrying the burdens of an industry in crisis. Many experts agree that the prevalent obstacles — higher food costs, more supply chain disruptions, labor challenges — aren't likely to end anytime soon. They could, in fact, escalate. No one knows for sure.
That's not great news for operators, but it does present some interesting opportunities for innovation. One of the most promising foods to work with is pizza. Demand has steadily increased in even the most tumultuous times, and globally the pizza market is expected to top $14 billion in 2022.1 Be it for comfort, convenience, or simply sheer delight, people are fiercely loyal to pizza.
The question shifts from will customers buy pizza to why they will buy it from you instead of your competitors. How can you put a twist on their favorites or offer something unique to capture their pizza-loving hearts in new and profitable ways?
One of the best ways to answer that question is to visit Alive & Kickin' Booth 1737 at the 38th Annual International Pizza Expo in Las Vegas on March 22-24, 2022. But why wait until March? Check out these insights now.
Serving Up 5 Hot Pizza Industry Trends
These 5 trends in the pizza industry shed some light on new directions to take, things to try, and maybe help you discover "the next big thing" to delight customers and separate you from the competition:
Restaurant exclusives
78% of adult diners go out to eat because they can't easily replicate the flavor and taste sensations of their favorite restaurant foods at home.2 Give the people what they want! Ramp up flavor profiles with more traditional toppings (like all-time favorite pepperoni), mix up the combinations for unexpected tastes, or try out specialty par-baked pizza crusts to add decadent texture.
Go, fish
A word of caution: customers are seeking taste and flavor innovation at their favorite restaurants, but nix the anchovies. The tiny fish is a big no-no — 61% of pizza lovers ranked anchovies as their least favorite topping.3
Less is more
Streamlined menus aren't a fad, they're the future. Operators in every restaurant segment cut back on menu offerings compared to pre-pandemic levels, and 60% report not intending to re-expand.2
Playing both sides
Customers agree that they're more likely to frequent restaurants that cater to their specific food preferences. What they don't agree on is if those preferences are for comfort food or more healthful options. The division in preferences is neatly split with 38% in each camp2, which is great news for pizza purveyors. Load up a rectangular pan with a pre-made dough ball crust and a ton of toppings for Detroit-style pie comfort, or offer lighter fare with veggie-topped Cobble Hill Thin and Ultra-Thin Par-Baked Crusts. Win-win!
Move over ice cream
It seems the pizza slice may be shapeshifting. The pizza cone consists of a slice of traditional pizza crust rolled into a cone shape and stuffed with pizza sauce, cheese, and select toppings for a new handheld pizza experience. Could we be headed for a pizza cone revolution? Not likely. The concept is gaining recent popularity, but it's been around (and patented) since the 1980s.4
Keeping tabs on pizza industry trends is a strategic way to introduce effective innovation and differentiation into your operation. If you're attending Pizza Expo on March 22-24, feel free to bring any questions to Alive & Kickin' Booth 1737. In the meantime, download Fully Loaded: The State of Pizza Nation in 2022 for more inspirational and aspirational trends. Click the button below to access your copy of this valuable infographic now.
SOURCES
1 PMQ Pizza Magazine, Pizza Power Report 2022: Get Ready for the Robots
2 National Restaurant Association, State of the Restaurant Industry 2021
3 PMQ Pizza Magazine, Survey Reveals America's Least Popular Pizza Toppings, February 2021
4 Mashed, In 2022, We'll All Be Eating A Lot Of Pizza Cones, December 14, 2021