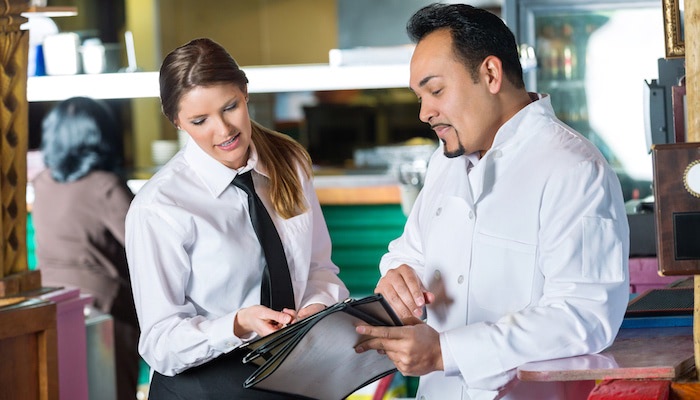 It's no secret that the restaurant and foodservice industry is in the midst of a significant worker crisis — recent U.S. Bureau of Labor Statistics data pins the annual turnover rate at around 73%.
This alarming statistic underscores two things of which operators are painfully aware: Finding, hiring and retaining team members who are the right fit for your culture and expectations is no easy feat; and keeping them around long-term can be even more difficult.
Being proactive can go a long way to overcoming both obstacles. Here are five easy ways to increase overall employee satisfaction and reduce staff turnover:
1. Offer competitive salary and benefits
Good base pay and benefits are part of the cost of doing business in any industry. However, an attractive compensation package is particularly important in the restaurant industry where workers are in short supply and you're vying for top candidates. Making it "worth their while" right off the bat will deter team members from being lured away, leaving gaps in your staff and potentially your pocketbook as the cost for onboarding and training one restaurant employee is estimated at $3,500. Additionally, recognizing long-term staff members for a "Years of Service" milestone, and rewarding them with cash, a gift card or a paid day off can go a long way toward improving employee retention.
2. Make staff development a priority
Employees can feel stifled if they reach a point in their jobs where they aren't being asked to learn new things or lack advancement opportunities. To stave off frustration and boredom that can lead to good team members looking elsewhere, consider establishing cross-training opportunities that provide new and measurable challenges for staff to master. Employees will be reinvigorated, and you'll gain the dual benefit of having team members who are equipped to step into other roles as the need arises.
3. Engage in some friendly competition
Having your team feel like a part of the "big picture" helps them connect with each other and commit to your business. From time to time, introduce a friendly competition to foster camaraderie. Maybe it's a contest to come up with a different way to prepare a favorite menu item, or best suggestions for a new recipe. Servers may have fun competing against each other to see who can sell the most specials or generate the most upsells during a shift. Winner gets bragging rights, or a small prize of your choosing.
4. Ask for feedback
Satisfaction surveys are a great way to gather objective information about your operation, as employees generally feel more comfortable sharing honest feedback anonymously. Offering this option to employees on a semi-annual or quarterly basis demonstrates that you care about their job satisfaction and are serious about understanding their perspectives on what's going well or not so well.
Exit interviews are also a valuable tool for making improvements. Knowing the reasons behind an employee's departure can give you insights into areas of your operation that are in need of improvement but are maybe less visible to managers not necessarily involved in day-to-day functions.
5. Use pre-made dough balls to ease stress on staff
Scratch-making dough is time consuming and requires focused attention in order to be mixed properly and consistently. Adding this task to your back-of-house staff's to-do list can really ratchet up the pressure during peak rushes when they may already be in the weeds. And, what happens if the batch is somehow botched? Starting over only tightens the time crunch and employees become stressed and often less effective. Consider pre-made dough balls as a universal solution to challenges with consistency, availability and productivity since they are pre-portioned and require little prep. Your employees will appreciate the helping hand when it comes to time and stress management, too.
Using these guidelines will help you create an environment that attracts top employee candidates and motivates them to stay for the long-term. Learn more about how to recruit, train and maintain team members in our Waitstaff Training Guide. Click the button below to access your copy now!