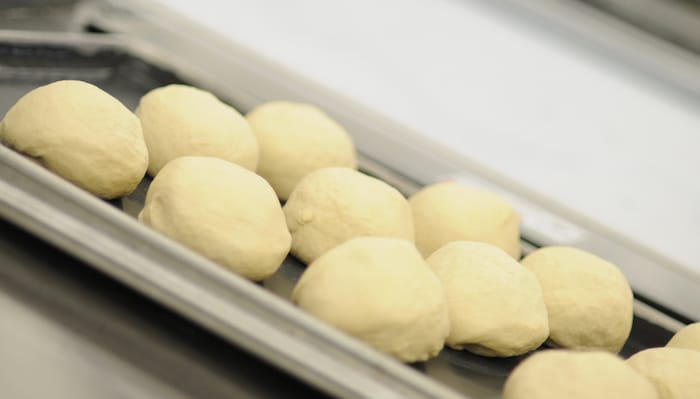 This article was originally published in April 2016 and has been updated for 2018.
Scratch-made dough. There's nothing like it — or is there? Pre-made dough balls offer the same quality, customized flavor profiles and performance as dough you mix on-site, but without the considerable time and labor commitment.
While everyone's situation is different, there are three general indicators that will help you determine if it's time to stop mixing dough in your kitchen and start shopping for pre-made dough balls.
Volume
When you first opened your doors, managing the demands of one shop was something you could handle alone or with a small staff. Fast forward to your current successful franchise. Juggling multiple restaurants, staff, kitchens and products is overwhelming. You can't keep up with making dough, or you make too much and end up throwing it out — a waste of effort, product and profits. Pre-made dough balls cut labor time, help you accurately respond to dough needs and prevent your kitchen from being in the weeds due to large, unanticipated orders.
Consistency
Mixing dough across multiple restaurants could be a recipe for disaster. There is no way to account for the variances in water, weather, surroundings and other factors from city to city or even shop to shop, and that could impact crust performance. Pre-made dough balls are universally made with the same quality ingredients in one facility, and recipes are carefully monitored and adjusted to accommodate external fluctuations. Pre-made dough balls can also be custom-matched to any recipe — even your family's secret one — for consistent flavor and performance every time, at every location.
Staffing
Here's the bottom line — no two people make the exact same dough. As your pizzeria grows and staff is added, or say a go-to crust maker leaves, your crust will show it. Pre-made dough balls can accommodate staff changes without compromise.
Advantages of Using Pre-Made Pizza Dough
These indicators may reveal that it's time for you to partner with a supplier, which can be cause for excitement and maybe a little concern. What about cost?
You'll pay a little more upfront for pre-made dough balls. However, looking at the big picture, mixing your own dough carries with it some hidden costs like labor, equipment purchase and maintenance and higher liability insurance premiums. This adds up quickly, and could exceed the nominal price difference you pay for the convenience and consistency of pre-made dough balls.
It's that convenience and consistency that leads many operators to believe pre-made dough is chock full of preservatives. It's a common misconception, as dough not made in your building doesn't automatically need to contain ingredients you wouldn't add to your own dough. In fact, many Dough Shop® by A&K dough balls carry clean labels — meaning all-natural ingredients and no added preservatives.
Unlike dough you make yourself, pre-made varieties provide consistent ingredient and product scaling, less spoilage and a significant reduction in labor. What's more, you're better prepared to handle the inevitable unplanned "big demand days" without panic or extra staffing. Or, when that back-of-the-house "oops" happens and the dough rack tips over, you can recover quickly since making replacement dough isn't necessary.
The benefits of pre-made dough balls are many, especially when you partner with the right manufacturer and distributor for your needs. Don't know where to start? We suggest Part 2 of this blog series for tips about making the most of these partnerships.
Crunching the numbers is also critical in determining if it's time to stop mixing your own dough. Use our Pizza Dough Cost Calculator to determine a per-dough-ball cost of making your own dough!