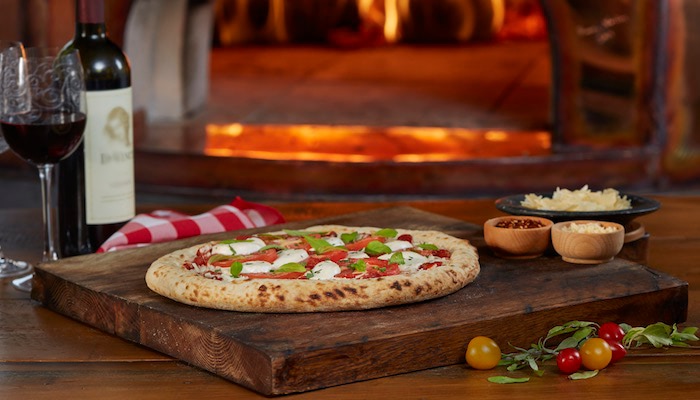 Pizza has long been a go-to food for quick pick-ups in the deli, frozen food aisle, or take and bake shop and a convenient meal option at any number of entertainment venues from ballparks to movie theaters. Its undisputed popularity drives sales, but are you maximizing profits at your operation?
Authentic Wood Fired Crusts from Alive & Kickin' Pizza Crust are an easy way to diversify your offerings with premium pizza that delivers the genuine wood fired experience without added labor or equipment. Each pre-made pizza crust is ready to be topped and finished in any oven, anywhere — a true value-add that improves profit potential in three important ways:
1. Greater capacity
Using Authentic Wood Fired Crusts automatically increases your team's ability to make and sell more pizza. You don't have to train and dedicate specific employees to use a fancy oven or scratch-make dough, freeing them up to prepare orders. Grocery delis can especially struggle with limiting labor costs, even to 35%, because of the sheer number of items they prepare each day, so ease of use is key to speed and increased profit margins. The same goes for C-stores where employees often wear many hats, from foodservice prep to counter service.
Depending on your operation type and kitchen size, you might consider offering a wood fired pizza takeout menu to take advantage of greater capacity, since you can top the crusts to order and hold them until customers arrive.
2. Increased average sales
Customers are better educated about and more conscious of food choices than ever before. Simply put, they know what they want and they're willing to pay more for it if premium items are available to them. Authentic Wood Fired Crusts, for example, can often bring $1-$3 more per pizza — and that's using the same toppings as on your traditional par-baked pizza crusts. Using upscale combos like spinach and feta or blue cheese and smoked chicken could boost the bottom line even more.
3. Consistent food costs
You're in control of the number of Authentic Wood Fired Crusts you order through your distributor. That means there's no guesswork around the amount of ingredients or dough needed that can sometimes happen with scratch-making dough. With pre-made crusts, you know exactly what you'll be spending and also eliminate imprecise estimation of need — too low could mean running out and disappointing customers; too high and you're throwing out excess dough, not to mention money and time. In addition, these wood fired crusts have a long shelf life frozen or refrigerated, so you can further reduce spoilage.
Authentic Wood Fired Crusts can generate higher margins for your operation. Learn more by reading our latest tip sheet, Wood Fired Crusts: Drive Profits 5 Ways. Click the button below to access your copy now!