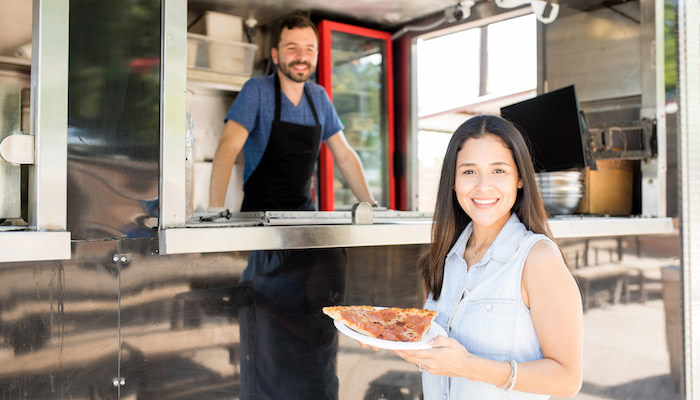 Food trucks continue to attract the attention of traditional restaurant operators, and with good reason. The U.S. food truck industry revenue is projected to top $1 billion dollars in 20191 — a testament to its popularity with customers. In a recent Mobile Cuisine survey, 90% of food truck customers rated the food as "excellent or good," and 80% described the overall dining experience using adjectives like "fun," "unique," and "exciting."2
Pizzeria operators are capitalizing on the trend by starting food-truck side businesses. The mobility expands reach into venues otherwise unattainable by brick-and-mortar operations — farmers' markets, festivals, other outdoor gatherings, etc. Food trucks also provide a new twist on increasingly pizza-catered events like weddings.
With so many upsides, you may be considering an expansion into the food truck business. However, just like with brick-and-mortar operations, there are important business decisions to make prior to making the investment.
Food-Truck-Related Costs
It's common to think about initial food truck start-up costs only in terms of the vehicle itself. This is understandable, since the truck can cost upwards of $100,000 depending on how it's outfitted3, but there's more to prepare for when it comes to the pocketbook.
Day-to-day operating costs need to include staff, insurance, permits, and truck-specific things such as licensing, parking space rental (in some cases), and vehicle maintenance. POS and credit card processing fees may also add up, since convenience is the name of the game in food trucks — and people routinely pay with debit and credit cards.
It's also important to remember that food trucks often require a separate storage/commissary, which is usually a substantial extra cost.
A Well-Defined Plan
Like a brick-and-mortar operation, food trucks take a good deal of planning to be successful. What's your concept? Which markets are conducive to food truck sales? What events will you attend, and can they accommodate your needs (i.e., power, cold storage, etc.)? What about scheduling and managing workers? Hours?
One of the biggest concerns of mobile pizza operators is how to maintain the pizza quality customers expect from a food truck and still get slices into the customers' hands quickly. Oftentimes, the ovens are wood-fired — which means cooking times can't be sped up — so the solution lies in the dough used and its prep. That's why operators should choose pre-made dough balls for their restaurants and food trucks.
Pre-portioned and easy to proof, pre-made dough balls are the ultimate in kitchen efficiency. Plus, they can be stretched and readied ahead of time without losing integrity – which is essential in meeting food truck on-demand orders.
Learn more about how pre-made dough balls can keep your food truck and restaurant rolling in Get Started With Pre-made Dough Balls: A 3-Step Guide.
SOURCES
1IBISWorld, Food Trucks Industry in the US - Market Research Report, March 2019
2Foodee, 12 Impressive Facts on the Food Truck Industry, May 17, 2018
3Thebalancesmallbusiness, The Basic Costs of Operating a Food Truck, September 2, 2019