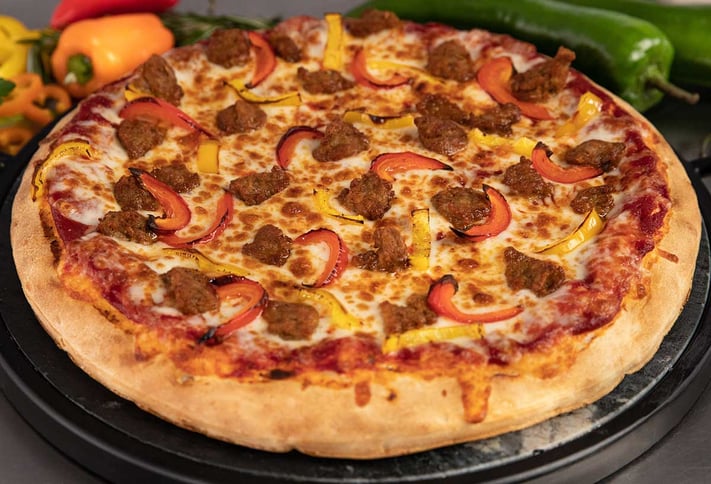 Foodservice items sold in c-stores generate profit margins nearly double that of non-foodservice sales.1 Pizza is undoubtedly a key contributor to profitability, but merely having a pizza program in place is no guarantee of success.
Every aspect of your pizza offerings must be outstanding — especially the crust, which most customers insist must be deliciously consistent every time. Substandard crust quality equates to substandard pizza quality in their minds, which isn't going to drive sales.
Many operators find the variety and versatility of par-baked crusts to be ideal solutions. Adding fresh frozen, rising crusts to the lineup further elevates your c-store pizza program by delighting customers with a pizzeria-fresh eating experience.
Rising (Crusts) to the Occasion
Rising crusts (also referred to as self-rising, oven-rising or live dough crust) use leavening agents in combination with yeast to create pizza dough that rises as it bakes.
As a result, the crust is bready, flavorful, and has a rich bite — all characteristics typically associated with pizzeria pies. Further, the soft, flaky texture with a coarse crumb and crisp bottom will convince customers that choosing c-store pizza doesn't come at the expense of quality.
Why Rising Crusts Work in C-Stores
Given their appeal, getting customers on-board with rising crusts is both easy to do and an easy way to boost sales.
Of course, more sales and higher margins are desirable, but how do rising crusts benefit your c-store pizza program? Here are 5 compelling reasons to use Astoria Rising Crusts from Alive & Kickin':
Adaptable to a wide selection of recipes
Require little storage and prep space
Have a shelf life of approximately 180 days from the date of manufacture
Offer freezer-to-oven convenience, creating opportunities to include frozen pizza options within your program
Hold up well under warming lights for extended periods of time — making them an excellent grab and go option for c-stores
Rising crusts give customers another reason to choose — and love — your c-store. Make sure you're providing a satisfying and safe pizza experience with the best practices you'll find in Hold On! 5 Keys to Fresh, Hot, and Safe Pizza Hold Times. Click the button below to download this valuable infographic.
SOURCES
1MTI, Slice of Convenience: C-store Pizza Programs on the Rise, June 1, 2018