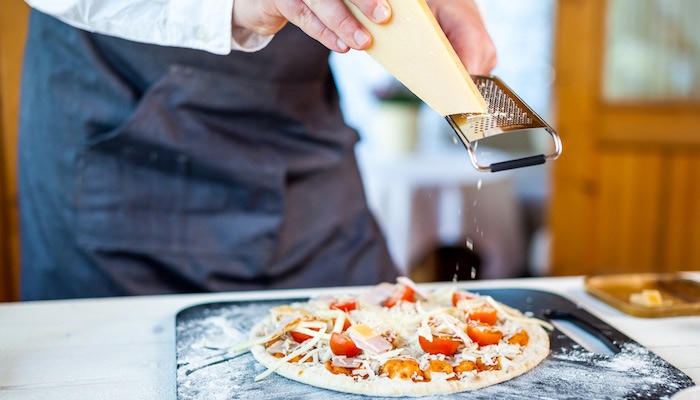 The National Restaurant Association (NRA) Show is going strong in its 99th year, and the 2018 gathering at McCormick Place in Chicago once again demonstrated why it remains unrivaled as the industry's largest trade show and international foodservice marketplace.
As both an exhibitor and guest at NRA, Alive & Kickin' Pizza Crust had access to some of the brightest minds and latest innovations in the restaurant industry. Here are four of the most talked-about trends that you should consider when moving your business forward during the rest of 2018 and into 2019:
1. Work around the labor shortage
April 2018 found the national unemployment rate at 3.9%. Good news for the country, but it further complicates an already pressing challenge for restaurant operators.
Recent NRA data reflects that hiring and retaining workers was the top challenge for 37% of Association members — that's a 15% spike over just two years ago. This lack of available workers paired with ultra-competitive wages and benefits has compelled operators to do more with fewer employees, and often spread themselves thinner to fill the gaps.
Increasingly, technology is the go-to solution for working around the labor shortage. Tablets and touch screens on tabletops, ordering kiosks and optimized Point of Sale (POS) systems ease the burden on shorthanded teams without compromising the customer experience. Plus, many operators are finding digital recruiting a convenient way to extend their hiring reach and even get existing staff involved in the process through sharing open positions on social media platforms.
2. Authenticity matters
Ethnic cuisines and global flavors have long driven food trends for obvious reasons, but the attention paid to them by the restaurant-going public has seen a dramatic increase: 66% of restaurant customers report eating a wider variety of ethnic cuisine now than five years ago, and 85% say they prefer enjoying eating those meals in a restaurant focused on that cuisine.
It's fair to say that customers hunger for the "real deal" in food and overall dining experience. They are educated about certain foods, and value authenticity.
Using and calling attention to ingredients that embody a cuisine's heritage — such as vegetables and cheese sourced from certain Old World regions in the case of Italian cuisine — is one popular way operators are validating the dining experience. Another is embracing mealtime serving customs that are followed in the country of origin and are often far different than American traditions. For example, in some Italian households, the salad is served after the entree instead of before, and either pasta or soup is eaten as part of the meal — never both. Changing up service to align with these "rules" gives customers a purely authentic way to experience your food and restaurant, not to mention a memorable reason to return.
Working hand-in-hand with the push for authenticity is the continued emphasis on clean label offerings.
While your customers won't necessarily inspect the ingredient labels of the foods you choose to use as they do in retail environments, don't think restaurants are precluded from this trend. "Clean label" is essentially defined as a food manufacturer's commitment to eliminating artificial ingredients, enhancers, preservatives, dyes and common allergens from their products. To restaurant customers, however, "clean label" often means "natural" — and close-to-the-earth eating is important enough to them to drive restaurant choices and willingness to pay premium prices to ensure their food contains only simple ingredients.
4. Ingredient versatility expands menus and profitability
Purchasing and managing ingredients can strain budgets and back-of-the-house efficiencies, so many operators are trending toward multi-use options. Ingredients and products that can be used to prepare several quality offerings is a smart way for operators to maximize resources to expand menus and profitability opportunities. Dough Shop® by A&K Dough Balls are perfect examples as they can be used to make a variety in-demand styles of pizza as well as alternate crowd-pleasers like calzones, breadsticks, cinnamon rolls and other imaginative moneymakers — and they're clean label to boot!
Events like NRA Show 2018 showcase how quickly the restaurant industry is progressing, which can make it difficult for operators to keep up with the next "big things." Our infographic, Fully Loaded: The State of Pizza Nation, captures current and emerging pizza industry trends to keep you informed, competitive and profitable. Click the button below to access your free copy now!