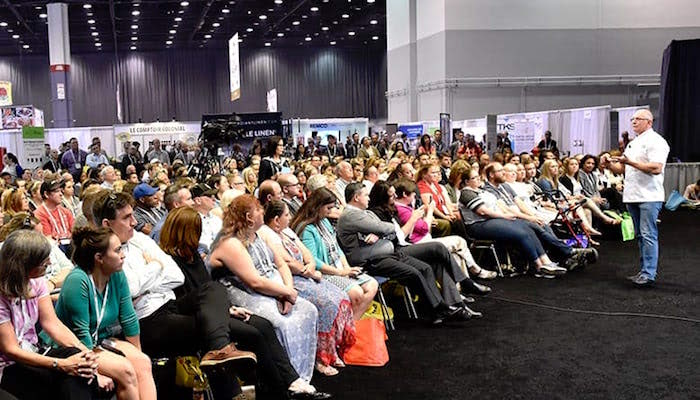 The National Restaurant Association is once again bringing the industry's largest trade show and international foodservice marketplace to McCormick Place in Chicago on May 19-22, 2018! Be one of the nearly 70,000 restaurant, foodservice and hospitality industry professionals engaging with more than 2,000 exhibitors representing several hundred product categories.
Make sure to visit Alive & Kickin' Pizza Crust in the South Hall of the convention center, NRA Show Booth 1688, to learn about the innovative pizza crusts, doughs and sauces we offer for a variety of venues, including our new, exclusive Authentic Wood Fired Crusts — an innovative, ultra-premium pizza crust that can be final baked in any oven, anywhere. You don't want to miss it!
Like A&K, the NRA Show is always introducing on-trend items that help operators reimagine their offerings and build their businesses, and this year is no exception. The NRA Show 2018 lineup is educational, entertaining and one-of-a-kind, with:
1. The NRA Show Signature Series and SuperSessions
The NRA Show's Signature Series features NRA President & CEO Dawn Sweeney as she hosts some of the brightest minds in the business for a lively, pointed conversation about where things are headed in foodservice. You'll gain key insights to help steer your business towards long-term prosperity. You're also sure to benefit from the SuperSessions with a variety of powerhouse guests including Chef Robert Irvine, Chicago Cubs owner and Chairman Tom Ricketts and 66th Secretary of State Condoleezza Rice.
Watch live as the world's most talented chefs and foodservice thought leaders share their culinary prowess and industry insights, along with the latest menu trends, skills techniques and fascinating behind-the-scenes stories.
3. Foodamental Studio
Taste Food & Beverage (FABI)-awarded products, participate in hands-on workshops and learn about the processes and techniques behind today's hottest food trends.
4. On-Floor Education Sessions
As part of the NRA's commitment to expert-led learning, the on-floor education sessions will be packed with hot topics, provocative opinions and powerful messages that leave you with the intel that improves operations and sparks new ideas.
Everything you need to stay current on the latest industry innovations and insights, unlock best technological practices and trends, connect with tech-savvy startups poised to make a big impact in foodservice.
These events are only the beginning of your NRA Show 2018 experience! Be sure to make plans to visit Alive & Kickin' Pizza Crust in the South Hall at Booth 1688!
Until then, get a peek at what's happening in the pizza industry by downloading our infographic, Fully Loaded: The State of Pizza Nation. Click the button below to access your copy now!